We Have a Winner!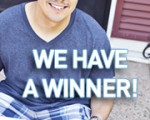 As we've said earlier, we have our winner! It's Robert Andrew Hunter III, who chose to receive the prize in cash.
Well, the check is now in hands of the winner, and if you go on our website you will find an interview with the lucky participant of the Pokerist's roadster sweepstakes.
Tell a little bit about yourself.
Hi, everyone! My name is Robert and I'm 35 years old. I'm a Connecticut state trooper. I've been married for about 8 years and have 3 kids: one boy and two girls.
What are your hobbies?
A: Being a dad. Playing with my kids. I like Boston Red Socks and New York Giants.
Do you play poker regularly?
No, not regularly. I play on my cellphone and online.
How did you hear about the Pokerist.com roadster sweepstakes?
Through the cellphone app. I was playing one day and saw an icon that popped up. I decided to give it a try. And I won.
What is your favorite feature when you use Pokerist Texas Poker?
The forum aspect of it. Being able to talk to other players and feel more like you're playing against people, not just a computer.
What is your favorite poker game?
Texas Hold'em.
Do you go to any casinos?
We have two in Connecticut. I don't go normally but I've been to them.
Not that you've discovered Pokertist.com site, how often have you been playing?
I'm playing once or twice a week. It's a good time passer and it's convenient because it's on my cellphone.
Do you like poker?
Yes, I do. It's a fun game. It's competitive. It takes a lot of skill to master and to play it.
Were you aware that Carmen Electra was their spokesperson?
I wasn't aware. I just happened to see the app with her on it. And when I downloaded it I figured it's a good way to get people's attention.
Do you like Carmen Electra?
I don't know her personally. But I guess she is a nice person. I'm surprised she didn't come here with you guys to deliver my price. That's a bummer. (Laughs)
What did you think when you find out that you have won?
I was surprised. I thought it was a joke and somebody was playing with me. But when I got all the correspondence and realized that I actually have won, I remembered that applied for it months ago. It was surprising and exciting.
How do you plan on spending your winnings?
Pay off some bills and finish off some house renovations. And thanks to Pokerist.com we can have a little fun too.
We want to once again congratulate Robert on his victory and wish all our users to keep playing their favorite game. And who knows — maybe you will be the one to get our next prize!
Jetzt spielen
Lade die Texas Holdem Poker-App auf dein Gerät herunter!