More Than Table Friends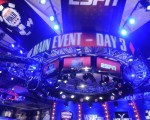 In a surprising turn of events, it was recently reported that two of the final table participants at this year's World Series of Poker main event are actually friends away from the table.
Chip leader Jesse Sylva and current fourth place chip leader Russell Thomas' relationship extends beyond this year's World Series of Poker. In fact, just last year, in 2011, the players were roommates, sharing a house in Las Vegas while taking a shot at the WSOP. Thomas is from New Hampshire. Sylva is from Massachusetts.
According to reports, Thomas said of Sylva, "He's probably one of my best poker friends. We both got really good learning from each other." Let's hope, for Sylva's sake, he didn't learn too much from Sylva. Either way, it will make quite a spectacle to see two friends face each other for a chance at the $8.5 million top prize.
Photo: www.pokernews.com
Jetzt spielen
Lade die Texas Holdem Poker-App auf dein Gerät herunter!