Texas Poker Super Update
A new version of Texas Poker is already available in the App Store and social networks. So what awesome new features await players? You can learn all about them in this article.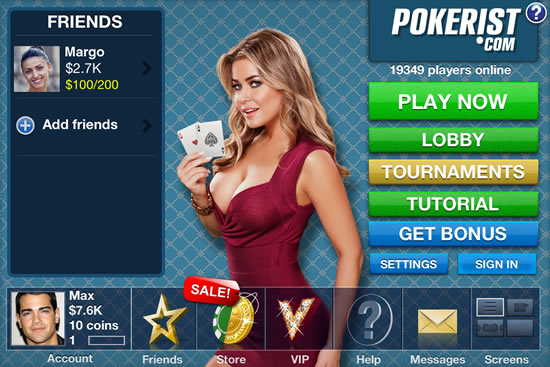 Where to Play/Download?
iPhone / iPad, Facebook or play now on Pokerist.com.
What's New!
Well, the list of new features is quite impressive.
Carmen Electra
She is now the «face" of Pokerist Texas Poker. Carmen will appear in the following locations:


Loading screen


In the main menu


As the poker teacher inside the tutorial


As the dealer inside the game


Two tables play
Players can play simultaneously on two tables.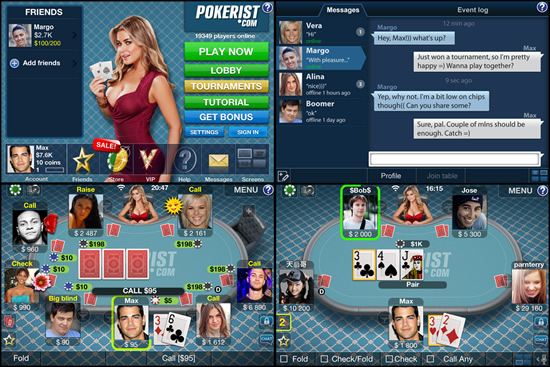 View previous games
Players can view their previously played games.
Messaging system
Now allows for short chat messages between the entire table.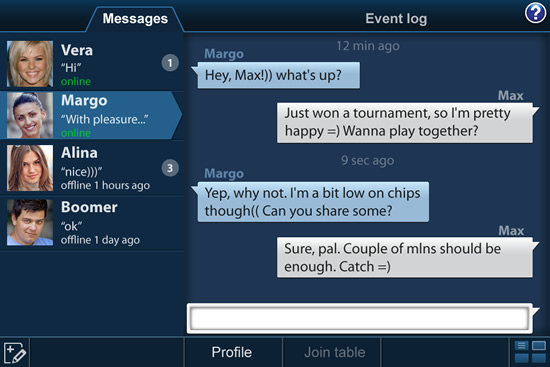 Shootout Tournaments
A multi table elimination tournament, which goes in three rounds. In each round 8 other players oppose you.
Working screens
Players can easily access up to 4 different screens while playing!
Chat Memory
Remembers all that users have previously written and helps them to type future texts more quickly.
Screenshots
With just one click, players can make a screenshot of their combination of cards at the table and send it to friends.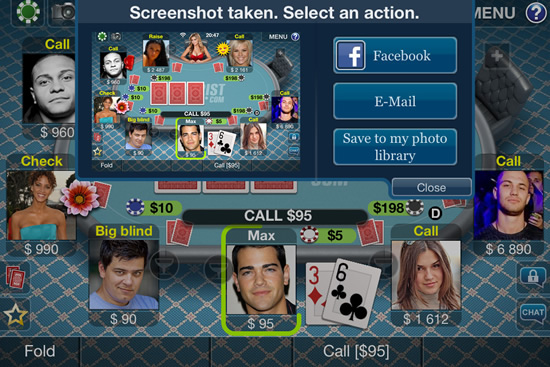 What else?
The following great features all players have been long familiar with, are still there:


Lobby — offers easy access to Fast Play and Sit-N-Go or Shoot-Out Tournaments.


Sit-N-Go tables — choose from 5 or 9 person tables with real people and their avatars.


Private tables — create private tables and play only with those invited.


Graphics — with 3D tables and chairs, game has a much more realistic playing environment.


IM Chat — allows players to see their conversations displayed directly from their avatars.


Suggestions — HELP info can be accessed from any place in the game.


Auto-login — create one account and play across all platforms.


Tutorial — animated tutorial allows players to quickly understand the basics of the game.


Lottery — players can win up to 10,000 chips per day when they open Pokerist Texas Poker.


Purchase Chips — players can buy chips everywhere (Facebook, In-App purchases in Apple, Payment solutions on Android and online, etc.)


Friends — offer gifts or chips to other players to entice them to play.


Platforms — iOS (iPhone, iPad, iPod touch), Google Android, Facebook, and online (PC or Mac).


Languages — available in 19 languages.


Roadster Sweepstakes
This Texas Poker update provides all poker fans with a great opportunity to participate in the Mercedes-Benz SLK55 AMG Sweepstakes.
Any of our players can possibly become a winner and get this great car. You just have to run the Texas Poker app before May 30 and submit the participation application.
Don't miss you chance, even more so that the participation is absolutely free, and in any event you'll get yourself one of the best and most advanced online poker apps.
So meet the new updated version of Texas Poker! Play, win and leave your reviews and comments on our Facebook page. Good luck at the tables!