Hall of Fame Spotlight: Jack «Treetop» Straus
Hall of Fame Spotlight: Jack «Treetop» Straus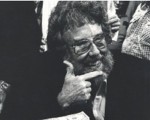 In 1979, Benny Binion, the owner of the Horseshoe Casino in Las Vegas, established the Poker Hall of Fame. Now, more than thirty years later, the Hall of Fame remains as a way to honor those who have contributed to the game. This Hall of Fame Spotlight Series will focus on the various members of the Hall of Fame and their contributions to the game.
Jack "Treetop" Straus (Inducted 1988)
"A chip and a chair". The origin of this popular poker phrase has been contested, but one thing is for sure: if it wasn't created by Jack "Treetop" Straus, it certainly took on new meaning after his 1982 World Series of Poker Main Event win.
Treetop, who earned his nickname from his imposing height (6 foot, 6 inches), was a popular player on the poker scene in the 1970s and 1980s, until his untimely death in 1988 at age 58, at the Bicycle Casino in California. He was playing high stakes poker at the time of his death.
Along with his amazing comeback in the 1982 WSOP, Straus is also known for running an implausible and creative bluff during a high stakes cash game. Straus had been betting frequently and decided to play the rush by raising with any two cards. As it turned out, he was dealt the worst possible hand, 72o (affectionately known as the Hammer in some circles). After the turn, the board was 7332. Straus made a big bet and while his opponent contemplated, Strauss offered to show his opponent one card for $25. The opponent agreed and Straus revealed the 2. The opponent, figuring that Straus would only make that deal if he held 22 (for a full house, 2s full of 3s) folded the winning hand, solidifying Straus' image as a creative and gutsy bluffer.
Photo: www.pokerplayer.co.uk