Hansen-Deeb Deal at the One Drop
Hansen-Deeb Deal at the One Drop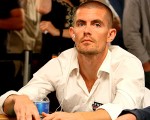 For those deeply involved in the world of poker, side deals are just a part of the game; but for those casual players who get most of their poker knowledge from televised tournaments, a recent decision by Shaun Deeb and Gus Hansen in the $25,000 buy-in satellite to the Big One for One Drop could raise some eyebrows.
When the two players reached heads-up play with similar stack sizes, a brief discussion was held away from the table. When the players returned, Shaun Deeb threw the tournament, raising all-in except for one chip, and then folding to Hansen. The very next hand, Deeb was all-in with his last chip and lost, netting Hansen the sole remaining seat in the $1,000,000 buy-in Big One for One Drop and Deeb the $1,000,000 second place prize money.
Deals at the final table are nothing new, and frankly, it is easy to understand why Deeb would want to lock in $975,000 profit, rather than winning a seat into another tournament. Similarly, it is easy to see why Hansen would want the chance to turn his satellite win into over $18,000,000 offered as first place money in the One Drop tournament.
From my perspective, there is absolutely nothing wrong with such an arrangement, especially since we do not know the details. But for the general audience, it reveals that poker is not just about winning for the sake of winning. Money is the true scorecard of poker at the highest levels.