Hall of Fame Spotlight: Amarillo Slim
Hall of Fame Spotlight: Amarillo Slim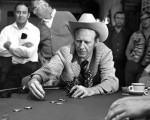 In 1979, Benny Binion, the owner of the Horseshoe Casino in Las Vegas, established the Poker Hall of Fame. Now, more than thirty years later, the Hall of Fame remains as a way to honor those who have contributed to the game. This Hall of Fame Spotlight Series will focus on the various members of the Hall of Fame and their contributions to the game.
Thomas Austin Preston, Jr. (a/k/a Amarillo Slim) (Inducted 1992)
Born in 1928, Amarillo Slim was one of the precursors to today's world of the poker celebrity. After earning a name for himself as a gambler, Slim took to the road with Doyle Brunson and Sailor Roberts, looking for gambling action across the United States.
In 1972, after winning the World Series of Poker, he became the game's greatest ambassador at that time, appearing numerous times on The Tonight Show with Johnny Carson. He won four WSOP bracelets in total over his career.
Amarillo Slim may have been most famous for his reputation as a prop better. One particular story involved challenging a professional level tennis player to a game of ping-pong. The only stipulation was that Slim would pick the paddles. On game day, Slim chose...frying pans. Slim had been practicing with the frying pans and easily won the bet.
Slim tried the bet once more, but this time, his adversary knew about his previous bet. So, when it was time for Slim to choose the paddles, his opponent was ready to play with frying pans. Only this time, Slim chose...Coke bottles, which have very unique ridges making ping-pong extremely difficult. Naturally, Slim had practiced and was able to win once again.
Toward the end of Slim's life, there were some legal allegations that may have tarnished his image. However, by the time of his passing, most of those allegations had been called into question.