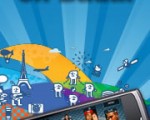 Good news: Texas Poker is now also available for Samsung Bada phones! It is the same game millions of people enjoy around the world.
The app has the familiar interface, looks and works good and you can choose from thousands of tables with different speed, number of seats and size of bet — just like on iOS and Android devices. What is more important, we are getting a solid addition to our Pokerist family, so users of iOS, Android and Bada devices will play together.
If for some reason you haven't played Texas Poker yet and have a Samsung Bada phone, then hurry ap and download it from SamsungApps! And don't forget to leave your review and sign up for our Facebook page.
See you at the tables!