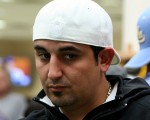 Josh Arieh recently announced his retirement from tournament poker (except for the WSOP), after a poker career that saw the pro with over $6,000,000 in tournament cashes since 1999. Arieh explained that the reason behind his decision is simply one of pragmatism, "To me, poker is not what it used to be. Poker is really tough. Kids got so good. Instead of poolroom hustlers and gamblers it turned into freaking geniuses. Kids that are making 1600 on the SATs."
Arieh surmised that if online poker becomes legalized in the United States, poker could see another boom, which would include an influx of new players who are easier to beat. Arieh continued by explaining that in such a scenario, all of the difficulties of tournament poker, like travel, expenses and long periods of time away from his family, could become worthwhile again.
Arieh is expected to continue playing cash poker, particularly around his home in Atlanta.
Photo: www.cardplayer.com