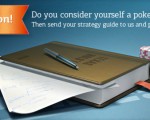 Consider yourself a poker strategist? Then send your poker strategy guide to us and prove it!
Do you often find yourself strategizing or calculating odds and your friends frequently ask for your advice on how to play poker? Think you know a lot about this game? Well, why not share your experience with the world?
Pokerist.com application starts a competition for the best poker strategy article. Take part in our competition — share your tips on how to increase chances of winning this game and become a winner yourself!
Your work may be written, recorded as a voice or video (provided it is a good quality record) or drawn as a scheme and it has to be in English. You may also write it in your native language as an addition. All works must be original. Send your works to contest@kamagames.com
In order to win the contest not only the content must be informative but it must be entertaining too. The best works will be posted online, where pokerists will determine the winner.
1st Prize: The winner of the contest will get 1,000,000,000.00* chips and an offer to join the Pokerist.com team as a poker strategy columnist.
2nd Prize: 500,000,000.00* chips
3rd Prize: 250,000,000.00* chips
* Chips will be disbursed to the personal Pokerist.com account of the winner. By creating a personal account, user agrees with Pokerist.com application terms of use.