Question of the week #
Tournoi. Vous êtes à la position du dealer. UTG+2 élève tout le temps des enjeux. Au cours du preflop il a élevé l'enjeu à 4000, et vous êtes seul des joueurs qui l'a égalisé. Vous avaez K♠Q♠ dans les mains, blinds 1000/2000. Et vous et votre opponent ont encore de 20 000 jetons. Au cours du flop on met 3♠6♦10♠ sur la table. La banque a de 11 000 jetons et votre opponent élève l'enjeu à 5000.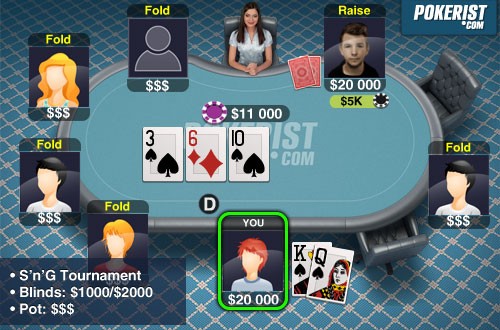 What should you do?
Se défausser les cartes Égaliser Tenter tout pour tout
12354 players have already answered
Jouer
Téléchargez l'application de Texas Hold'em sans plus attendre !