Question of the week #
Voi giocate a soldi, i blind sono: 50/100, avete 130,000 gettoni. Il giocatore in posizione UTG rilancia la posta per 300, voi rilanciate fino a 1000 (in mano 8♥8♠), dopo di che il grande blind va all-in giocando 24,000 gettoni. UTG vede.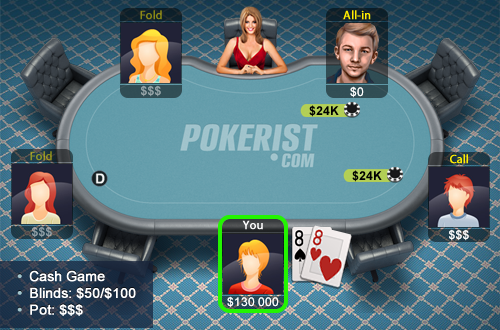 What should you do?
Go all-in
— Your answer is correct.
Comment
Quando il giocatore UTG vede all-in del grande blind, significa che avrebbe una mano debole. Per voi è la possibilità di andare all-in per spingere l'UTG a fare fold, così rimanete faccia a faccia con il grande blind.
You and 11222 other players have already answered
Gioca ora
Scarica subito l'app Texas Holdem Poker sul tuo dispositivo!